Via Corda Grenoble, Saint-Nizier (3 Pucelles), Choranche, Lolette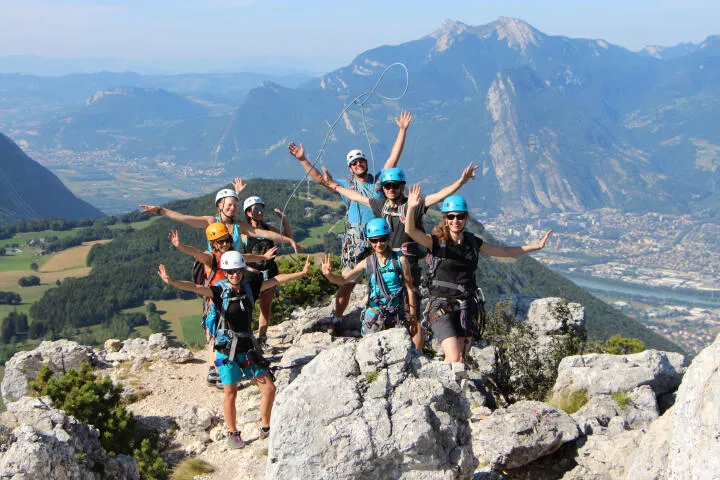 ---
Description Via corda
La via corda (appelée parfois parcours sur corde ou encore via cordata) est une activité située entre l'escalade, la randonnée, et la via ferrata.
Les via cordas sont des itinéraires qui empruntent des chemins aériens magnifiques situés en falaise rocheuse.
Parcours accessibles à tous, ils ne nécessitent pas de prérequis contrairement à l'escalade de grandes voies rocheuses. En effets des aménagements (parfois des barreaux d'échelles, tyroliennes par ex.) permettent de faciliter les passages qui auraient pu poser des difficultés techniques.
La longueur et la difficulté de la via corda est variable (via corda de Lolette, Via corda de Choranche, de Saint-Nizier et de Saint-Martin).
C'est l'occasion rêvée de partager de bons moments, les anniversaires, enterrement de vie de célibataires. Les via cordas sont aussi parfaitement adaptées aux colonies de vacances, collectivités ou encore journée de cohésion entre étudiants.
Nos via cordas sont toutes situées dans le Parc Naturel Régional du Vercors.
Pour tous niveaux, accompagné par un moniteur de via corda, dès 8 ans, il est possible de pratiquer cette activité.
Tarifs spéciaux pour les collectivités et Acceuil Collectif de Mineurs, les sorties pour entreprise, enterrement de vie de célibataire et groupe à partir de 6 personnes.
Read more
Service include :
Supervision by a certified monitor
Materials standard EPI of via ferrata

Double lanyards with shock absorbers
Harnesses
Helmets
Ropes for progression

Photos of the outings in digital format
Accident Insurance for client
Go pro HD rental (subject to availability)
For all levels, from 8 years, it is possible to practice this activity.
Special rates groups, seminars, bachelor party and group from 8 people.